Single-action pedal harps
I am privileged to own a few beautiful harps. They are my dear family members.
The oldest one is from 1771, Paris. This single-action pedal harp is built by J. H. Naderman in the period of Mozart. It is a joy to play music from the 18th century or early harpsichord pieces on her.
M. Wolters harp from 1785 is the next oldest harp in my family. She has a stronger sound than the Naderman. Her sound blends well with the other instruments from the same period. A beautiful black Chinoiserie S. Renault harp from around the same time became my family member as well. She was once owned by Madame Ursula Holliger.
Furthermore, 2 single-action pedal harps built by Naderman's sons' atelier are the most active for my performances and recordings. One is from 1815 and the other from 1820. Even they are from the same builder, they each have their own character. These instruments are wonderful to play concertos and bigger ensembles, such as compositions by E. T. A. Hoffman, J. L. Dussek, L. Spohr and F. Ries. They bring out a silver-bell like ringing tone.
From the same period, I own an S. Erard single-action pedal harp, London. It has an extra pedal to open the shutters behind the harp. These shutters or doors were made to reinforce the sound. In some pieces, they were using to make the sound undulate. However, the shutters have gradually disappeared throughout history.
And the last but not least of the family member of my single-action pedal harp is built by Beat Wolf in 1992. It is a replica of the Louise XVI style harp. She has been my first inspiration to rediscover the world of the pedal harps from the 18th century. Encountering this harp has made my world expand, and made my ears and eyes wide open!!
Double-action pedal harps
The oldest double-action pedal harp in my family is the S. Erard, London from 1830. She still has an extra pedal as well. She has a wonderful warm sound to perform music by P. Alvars, M. Glinka and orchestral pieces such as by H. Berlioz.
My double-action pedal harp Wurlitzer, which the company was later absorbed to make jukeboxes is more than 100 years old.
I have travelled my musical life the longest with my Lyon & Healy style 23. She knows my habit, and we still get along very well.
The newest double-action pedal harp in my family was a gift from a Japanese harp maker, Aoyama. It is Princess Sakura model. Her naming and the cherry blossom design was an idea of mine from long time ago, which Aoyama company decided to manufacture much later.
JAPANESE ANCIENT HARP
KUGO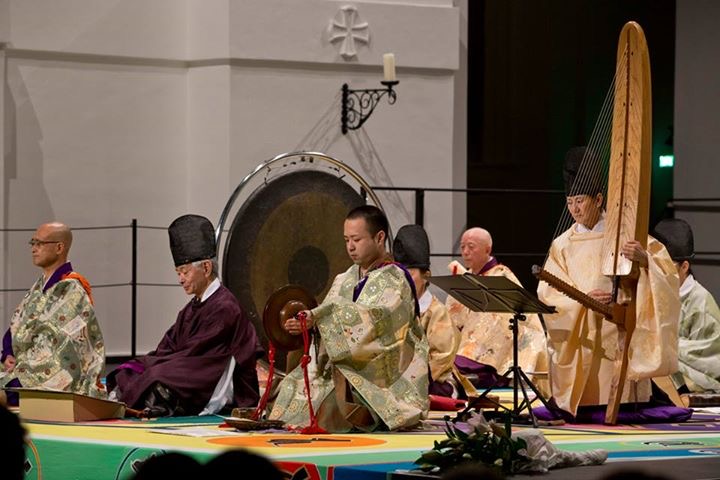 One special member from my harp family is an ancient Japanese harp, Kugo. Kugo is an angular harp with silk strings. When Japan was at the end of the silk road, various types of arts and music entered Japan from many Asian nations around the 8th century. The treasures and the instruments arrived from abroad was kept in Shoso-in, a treasure repository in Nara for over 1200 years. Amongst them were the broken fragments of the Kugo. My instrument is one of the few replicas made.

I have been very fortunate to have performed numerous times with the Gagaku players, Japanese court musicians around the world.